Dear friends of Les Hivernales de la Danse,
In these uncertain times, it is our duty, as representatives of the Performing Arts, to keep sparking your imagination, encouraging your dreams or helping you forget your troubles for a little while, spiriting you away to a beautiful place…
Thanks to support from our partners and the immense generosity triggered by this unprecedented crisis, we are confident we can continue to do this! THANKS to DUCHENE constructions, THALES belgium, AIDE, and to the TOWN OF LIEGE for being doubly generous this year, considering the unique circumstances of the 8th edition.
We all need to find our way back to the theatres to feel that magic again, spirited away to another, more joyous place.
The Gala scheduled for 13 and 14 March cannot be held in optimum conditions so we would rather postpone the 9th edition to 4 and 5 December 2021. We will finally be able to catch a glimpse of the Principals and see off this challenging year together in style, marvelling in the magic…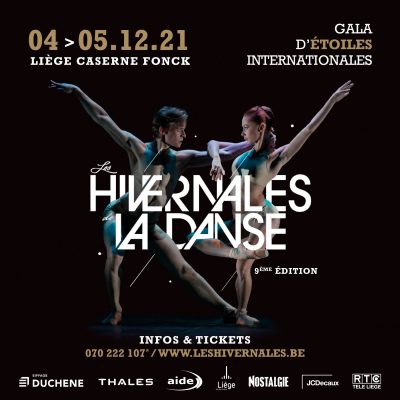 Would you like to help us out and take part in this wonderful adventure?
As a sponsor : get in touch now to find out all about our partnership offers (by email info@leshivernales.be or by phone 0479/429913). The show can't go on without our partners' valuable help and we are always looking out for dynamic brands that would like to associate their image with this unique cultural event.
As a VIP: gastro meal, the best seats, champagne and nibbles, customised welcome, VIP parking, live the Les Hivernales de la Danse experience like a Principal… For any bookings, please contact us on 0479 42 99 13 or by email at info@leshivernales.be, limited numbers.
As a volunteer: during the 2 Gala days (Saturday and Sunday). Go to the "Volunteers" tab to sign up. We'll be sure to contact you a few weeks before the Gala to check your availability and give you some important information about your job.
THANK YOU for your loyalty,
THANK YOU for your encouraging messages regarding the Gala,
THANK YOU for keeping Les Hivernales de la Danse alive!